Once again this week's heroine is a more recent one as she only died fifteen years ago, but as she did die at age 102 I felt like including her wasn't breaking the "historical" criteria: Meet Indra Devi, who played a big role in bringing yoga to the Western world.
Born as Eugenie Peterson in Riga, Latvia in 1899 to a Swedish banker and a Russian actress and noblewoman, she was sent to study theater in Moscow once she had finished school. There, at age 15, she discovered India's poetic philosophical texts and first encountered yoga. This left her so impressed, she promised herself to go to India one day. When the family had to flee from the Bolsheviks around 1920, Eugenie ended up in Germany, where she joined a theater group with which she toured all over Europe. This took her to a congress in the Netherlands where she heard ancient Sanskrit chants for the first time, leaving her in awe once more.
The chance to travel to India should come, when in 1927, banker Hermann Bolm proposed to her. Fearing that she would never fulfill her dream once she married, she accepted only if he agreed to pay her journey to India before the wedding. And he agreed. When she returned three months later, she gave Hermann back his ring, sold all her valuables and returned to the country of her heart. There she continued her career as an actress, adopting the stage name of Indra Devi. And in 1930 she was to meet (and marry) the man of her heart, Czech diplomat in Bombay Jan Strakaty. The pair became popular in social circles quickly, being invited to all the important events. Indra defied the social norms, making friends throughout the castes and even befriended Mahatma Gandhi.
It was through her husband that she met the Maharaja of Mysore, whose palace included a yoga school where Sri Tirumalai Krishnamacharya taught. She approached the famous yogi but was refused for being a Westerner and on top of that a woman. With the intervention of the Maharaja, he relented and she was accepted …reluctantly. This made her the first female yoga pupil ever and the first foreigner Krishnamacharya taught, the first Western woman in an Indian ashram. Determined to exceed expectations, Indra met every challenge with resilience. Long hours of practice, dietary restrictions, denying herself a source of warmth – she conquered them all. Finally her efforts were rewarded and Krishnamacharya took her on as a private student. He was impressed.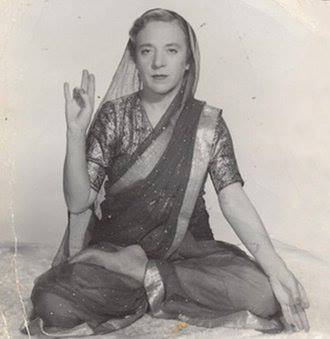 In 1939 her husband was transferred to China, which meant Indra had to leave her country. Encouraged by Krishnamacharya, she opened her own yoga school in Shanghai, the first one in China. It attracted students from all over the world who began calling her Mataji, Hindi for "mother." 
After World War II was over, the couple returned to India where Indra wrote her first book: "Yoga, the Art of Reaching Health and Happiness." It is believed to be the first book about yoga written by a Westerner that was published in India (she also was the first Westerner to teach yoga in India.)
After her husband died in 1947, she decided to go to California and opened a yoga school in Hollywood one year later. Determined to spread the knowledge of yoga, she persuaded many famous people of her time to attend her lessons (on the right she's pictured with movie star Eva Gabor in 1960) and wrote two more books which were translated into ten different languages to be sold in 26 countries. She herself was fluent in five languages: English, Spanish, Russian, French and German.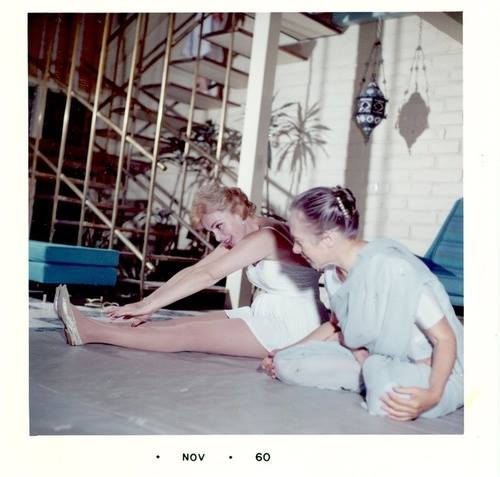 With her second marriage to Dr. Sigfrid Knauer, she became an American citizen and officially changed her name to Indra Devi. She went on to travel to Moscow in 1960, holding a speech before the Kremlin, convincing them to allow the practice of yoga in the Soviet Union. She started a new studio in Tecate, Mexico in 1963 but closed it after her husband died in 1977. And again she relocated, this time to Sri Lanka. But she couldn't keep still for long and began travelling the world to teach and lecture.
When she arrived in Argentina in 1983, she fell in love with a country again and finally decided to settle. Her style of Sai Yoga (named after guru Sathya Sai Baba, whose teachings she followed) was immensely popular in Buenos Aires and fellow Sai Baba devotees invited her to stay and teach – which she did. In 1988 the Fundacion Indra Devi was founded in her honor and one year later she celebrated her 100th birthday with more than 3000 guests. Despite her old age, she never stopped travelling, albeit not as frantically as before. After a stroke in 2002 however, her health deteriorated and she died peacefully on April 25. Her ashes were scattered into the Río de la Plata.
Today, the Fundacion Indra Devi has seen some 25,000 students pass through the doors of their six studios in Buenos Aires. She was a woman who kept following her dream and made it come true, leading a fulfilling life and being an inspiration to others.