This total badass won at least ten duels, performed on the world's biggest opera stage, burned down a convent and had to be pardoned by the king twice. May I present to you: Julie d'Aubigny, better known by her stage name La Maupin.
It's actually not even 100% certain that her name was Julie, but oh well. (And the girl in the picture isn't her either, it's "The Fencer" by Jean Béraud (ca. 1890s) – but I think it captures her spirit very well)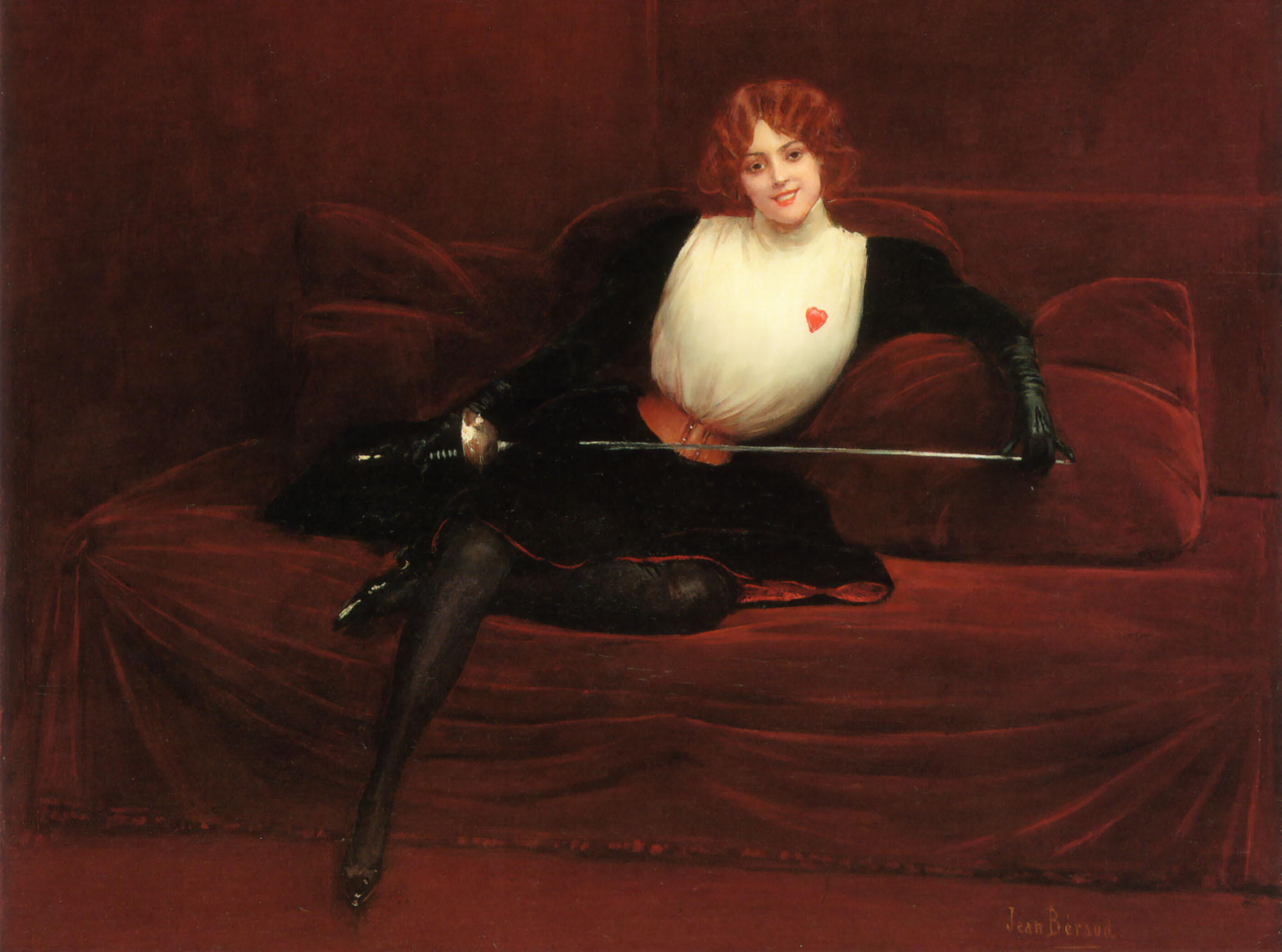 Born into a quite wealthy family in 17th century France, she could have just spent her life idly enjoying the country and not moving a single finger. But that wasn't really her thing. Or her father's. His name was Gaston (heh) and he was the Master of the Horse for King Louis XIV (the Sun King), responsible for the training of the pages. The sword-training, mainly. So from early on she learned all the important things: fencing, riding, reading and, thanks to her mostly male environment (I couldn't find out where her mother was – or who for that matter), also the even more important things like drinking, gambling, fistfighting and more stabbing. All of which she did in men's clothing, a habit she would continue throughout her life.
So, her dad was a pretty hot headed guy and usually disposed of her would-be suitors by cutting them up with his sword. Julie found a loophole though, getting it on with the one guy her father couldn't duel: his boss (not the king though). She was however far too much for him and he married her off to some calm, dull guy to calm her down a bit. That's how she became La Maupin for short. It was her husband's name. But oh boy, did she do the opposite of calming down.
Quite soon after the marriage she had taken a sword master as her lover. It just so happened that he was on the run for murdering his opponent in an illegal duel and she decided to leave the city with him. They made their living with fencing shows and he further trained her in the art, but soon she had surpassed him and ditched his ass, continuing her travels without him. Now her fencing shows looked somewhat like this: Julie brandishes her sword and starts singing a few songs, then challenges anyone in the audience for a duel. Whoever steps up gets to hear a humiliating song about his very person and beaten like he had never held a sword before. Sometimes the audience would even question her womanhood (as she wore men's clothing like she had always done and of course because "a woman can't fight like that"). To this she usually responded by tearing her shirt off. It worked.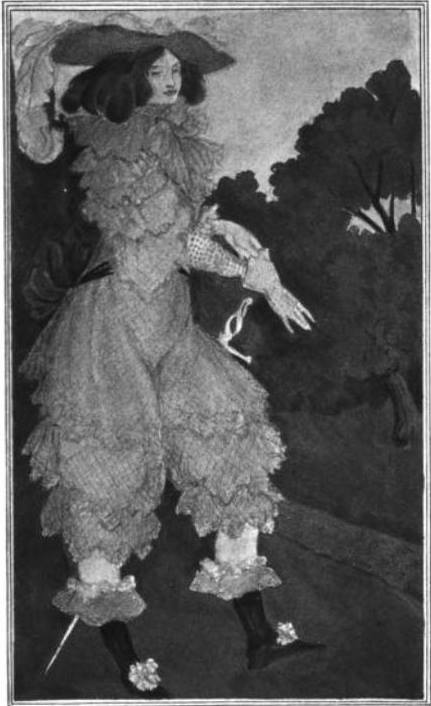 So, after she had ditched her swordmaster lover, she became involved with a merchant's daughter. Well, the girl's father was not too happy about that, so he sent her off to a convent, hoping to separate the two. Yeah, right. Julie took the holy orders and joined the convent – to continue her love affair there. Soon after an elderly nun happened to die (no, Julie didn't kill her …it seems) and La Maupin did the only logical thing: putting the body into her lover's room, setting fire to the building, grabbing her girl and getting the fuck out of there. Three months later our heroine delivered the girl back to her parents' doorstep – she had gotten bored again. In these three months she was charged for this lovely little adventure of convent-arson and kidnapping and actually sentenced to burn at the stake. But smart as she was, she rang up (not literally, mind you) her old paramour, her father's boss (remember him?) who used his influence to have King Louis XIV pardon her.
(There is actually a book about her adventures and that's where the picture on the left is from: "Mademoiselle de Maupin" by Theophile Gautier, from 1898, illustrated by Aubrey Beardsley)
With her newfound freedom, she made for Paris, singing to earn her living. Once in a tavern after one of her songs, she was insulted by a drunkard and challenged him to a duel outside. Do I need to say it? She cut him up pretty good, but they survived. The next day she felt kinda bad about it, so she visited the poor chap to see how he was doing and ended up becoming involved with him. You gotta hand it to her, getting a guy you stabbed to be your lover is not a small feat. And remarkably the two remained lifelong friends even after their romance subsided.
And all this before she was 20! What a lady! And it's not like her wild life ended then. Nooo.
Julie made it to Paris and after being initially rejected, she became a member of the Paris Opéra, the world's most respected opera at that time. And damn, did she cause a stir. After all, opera singers were the rock stars of the time. Her beautiful voice and androgynous beauty captivated the audience and her passionate character brought with it many admirers. That character did mean of course that she either slept or fought with most of her colleagues at one point. At one point for example, another actor was making disrespectful remarks about his female colleagues. After he had dismissed her complaint – rudely – she awaited him in a dark alley on his way home, challenging him to a duel. When he refused (on the grounds of being a coward), she beat him up with a wooden cane and stole his pocket watch and snuffbox. The next day at work she caught him complaining about a gang of thieves assaulting him and swiftly pulled out his watch and box, proving him to be a liar and a coward in front of all his coworkers.
Her opera career was interrupted when she fled to Brussels for a while, following an incident at a royal ball. She had attended dressed in her men's attire and spent the evening courting a young woman and finally French kissing her (hehe) right there in front of everyone. Three gentlemen were particularly unhappy about that and challenged her to discuss matters outside. In the following duel she defeated all of them and returned to the party, leaving her opponents bleeding. At that time however, anti-duelling laws grew increasingly harsh, and although King Louis XIV was so amused by the whole situation that he pardoned her (for the second time), she decided to spend some time abroad until the heat had calmed down.
She did return to Paris and the opera though and for the first time entertained a lover for some longer time: the Madame la Marquise de Florensac (see picture: An anonymous print from ca. 1700 called "Mademoiselle Maupin de l'Opéra"). After her beloved's death, Julie's trail gets a little fuzzy. It is known that she died around 1707 from unknown causes aged about 37. As far as I could find out about her later life, her husband and her were reunited and lived together fairly peacefully in Paris. Yes, she was technically still married throughout this whole tale. Did you forget about this too? From what it seems, she sure did.